What is a IATA Approved pet crate?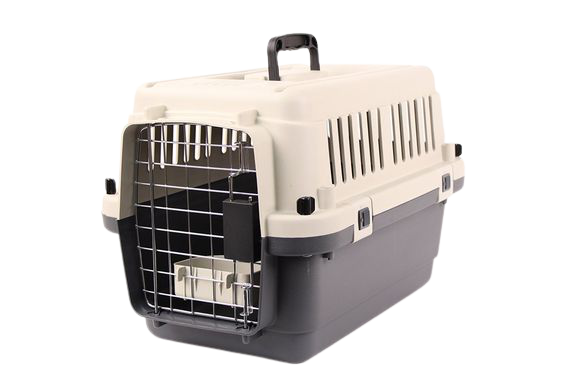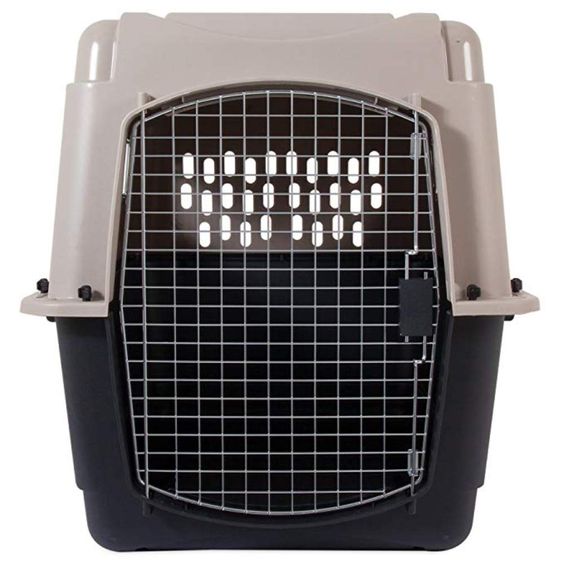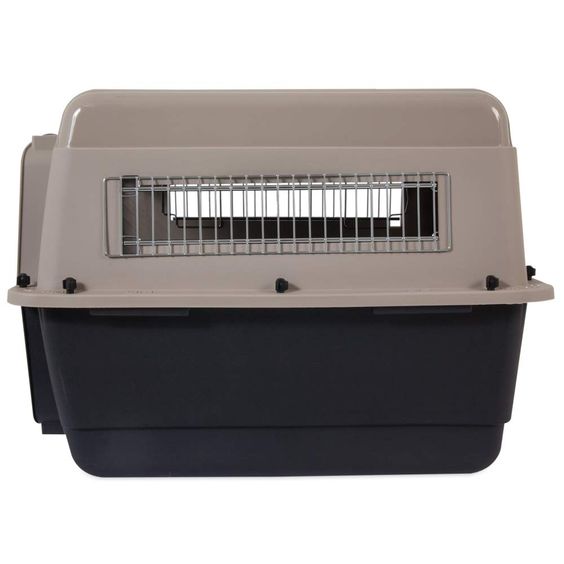 Crates are built to the International Air Transport Association (IATA) guidelines. Whether you need a large crate, a small crate, or something small and detailed, our goal is to create exactly what your pet needs for pet travel. It's also important to know your dog's weight as each travel crate size has a weight restriction. The pet's crate should have ventilation on all 4 sides, have only one door and have metal bolts (not plastic) securing the top and bottom halves of the crates together. Clips are not acceptable for pet airline travel. In general, there must be 2-3 inches of clearance over top of the head or ears. If your pet is in between sizes then buy the larger size. Snub nose animals require a crate one size larger than normal. Special pets may require modifications to a standard crate to make it acceptable.

Ventilation of Crate
The rear of the crates are ventilated, and the door pins are protected by protectors to prevent accidental opening of the door. Please measure your pet carefully before purchasing your carrier elsewhere to ensure you get a sturdy and secure carrier that fits your pet. It is mandatory for international carriers to have ventilation on all sides. It is the airline's right to deny boarding to pets in inadequate carriers.
Do not hesitate to contact us with any questions regarding our custom options, and what we can make for you.
Standard for IATA pet crate
An appropriate crate should be like this:
Made of plastic




• Held together all the way around with nuts and bolts




• Metal front door




• No wheels, is not collapsible, and has a spacer lip around the middle




• Ventilation on all sides (international travel) or at least 3 sides for domestic travel




• Wire training crate, crates that fold and collapse, soft-sided crates and crates with plastic pegs, snap closures or other means of holding the top and bottom together are NOT ACCEPTABLE




• Must be at least 3 inches taller than the pet INSIDE, so that there is 3″ of clearance over the top of the head or ears, whichever is highest. Click here for instructions on how to measure your pet.
Standard size of IATA pet crate
| | | | | | | |
| --- | --- | --- | --- | --- | --- | --- |
| Size | IATA Series | For Pets Weight | Exterior Size (inch) | Interior Size (inch) | Carrier Weight | Available pet weight |
| Small | 100 | 10-20 lbs | 21′ x 16′ x 15′ | 17.5′ x 12′ x 13′ | 2.8kg | 10-20 lbs |
| Medium | 200 | 21-30 lbs | 28′ x 20.5′ x 21.5′ | 23′ x 16′ x 19.5′ | 4.65kg | 20-30 lbs |
| Intermediate | 300 | 31-50 lbs | 32′ x 22.5 'x 24' | 29′ x 20′ x 24′ | 6.75kg | 30-50 lbs |
| Large | 400 | 51-70 lbs | 36′ x 25′ x 27′ | 32′ x 22′ x 26′ | 8.4kg | 50-70 lbs |
| Extra-Large | 500 | 71-90 lbs | 40′ x 27 'x 30' | 36′ x 24′ x 28′ | 12.25kg | 70-90 lbs |
| Giant | 700 | 91-125 lbs | 48′ x 32′ x 35′ | 44′ x 29′ x 32.5′ | 23kg | 90-125lbs |
Requirements for IATA pet crate
Container must be constructed from fiber-glass, metal, rigid plastics or welded metal mesh. No wooden cage is allowed.
Containers must be clean and leak-proof
Any wheels attached to the container must be removed
Animals must be able to stand, turn and lie down in a natural manner
Containers must be adequately ventilated, with the majority of the ventilation system being situated in the upper part
Reversible drinking water bottle or water container must be present within the container with outside access for filling. If reversible drinking water bottle being used, please ensure your pet is familiar to use it
Separate food and water throughs should be provided and easily accessible for replenishment in case of delay
All feeding and watering instructions must be provided in writing and affixed to the outside of the container.